7 Ways to Make Your Translation Clients Love You
Finding translation clients is hard.
It is considered the biggest challenge faced by translators worldwide, as per a recent report by ProZ titled "The state of the linguist supply chain: translators and interpreters in 2020".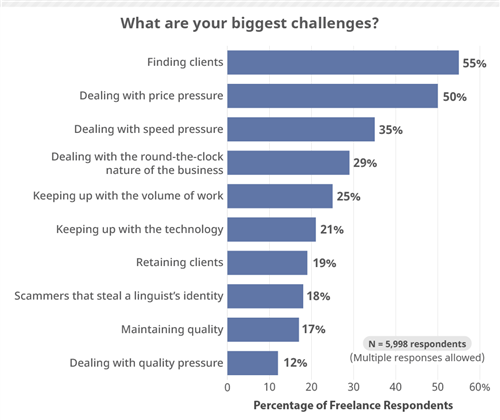 You can't deny it. As a translator, you know what the feast and famine cycle is all about. So, when you (finally) get some good clients, you don't want them to go away, do you?
The problem is, you are not the only translator out there providing services in your language pair. There are many others offering technical, medical or business translation expertise. Sadly, your colleagues are also your competitors.
Have you ever Googled for translators offering similar services in your city/country? If not try with this operator: [language pair] translators in [city/country]. Remember to remove square brackets and use actual text values (e.g. turkish-french translators in cameroon).
Your search will return a list of directories, corporate websites, translator associations, social media groups or online platforms – including the well-known Proz and Translators Café.
From the client's point of view, there are too many choices.
This makes them wonder whom to trust. They may want to try their luck with any translator and would expect them to prove they're worthy. If you are the lucky one, you must be the best translator they have ever worked with, so they can keep providing you with projects.
Below are 7 shortcuts to making your translation clients love you.
1. Be a Professional
The COVID-19 pandemic pushed the translation industry to a 40% growth, which reached up to USD 56.18 billion in 2021. If you don't take yourself seriously, maybe you should quit translating. Be the professional you are expected to be and play by the game rules.
From the onset of any potential collaboration, show your expertise. Be responsive, trustworthy and knowledgeable about your profession. Be well informed about:
industry standards and best practices (contract, rates, invoicing, LQA, etc.)
the most common professional tools and resources
new trends and the contribution of global stakeholders
key facts and industry developments (PEMT, machine learning, cloud-based TM, etc).
A good command of such aspects helps you build trust in your potential clients. They should feel you are the professional they have been looking for. And they will (eventually) fall in love with you.
2. Be Bold
Working with clients has a lot to do with psychology.
This is not a master-slave relationship (unless you want it to be), but a win-win collaboration between two parties having both rights and duties. You bring in your language expertise to solve their translation, editing/proofreading or interpreting problems; they offer you a compensation in return.
They can always look for another linguist, and there will be other clients in need of your solutions.
Make sure you say what you mean and mean what you say. Remember that knowing your value and being bold prevent you from being abused.
This applies to the following:
Translation Rates
If you work with direct clients, feel free to suggest what you usually charge as standard rates. This is to make them understand you are not working for peanuts. One of the best ways is to let them consider the time spent and efforts invested producing the document, website content or app help file they want translated. Focus on the value of the translatables and highlight the importance of the translation phase – regarded not as an isolated solution, but as part of a broader communication campaign.
With translation companies, you are more likely to face resistance if you charge particularly high rates. Because they need to keep a percentage from what they charge to end clients. But, your experience, specialisations and software literacy may help you secure a good rate.
Be prepared to be flexible, but draw beforehand a threshold under which no collaboration is possible. As Corinne McKay puts it, don't market to direct clients in the same way you market to agencies.
Working hours/days
Some translation clients – mostly translation companies – do not respect the translator's work/life balance and expect them to be operating 24/7. Remember you can always let them know when you are available and when you're not.
Avoid being the guy who always says "YES". Don't be afraid to turn down some projects or ask for a deadline extension, but you'd better use good arguments (unforeseen circumstances, poorly written source contents, format-related issues, or whatever fits your particular context).
Conflict Resolution
When two humans start any relationship, they are bound to face conflicts. Translation is no exception. Conflict resolution implies that both parties make concessions. If you feel all is on you, consider looking elsewhere, because you may not be as valuable to your client as you think.
3. Be Unique
Invest in your Personal Brand.
It is the best way to stand out in the ocean of freelance translators. Get yourself a corporate identity. It doesn't matter if you're a one-person business owner. Indeed, a study by IbisWorld shows that about 95.1% of the language industry operators in the USA are sole proprietors.
List key values that (will) drive your business, set up a website and design other online/offline marketing materials.
Besides, make sure your branding efforts are consistent across all platforms by:
Use the same colour scheme all over your documentation.
Feature your logo or corporate symbols on your print and electronic assets.
Use custom social media covers to advertise your business.
Contribute to business groups (focus on helping others, instead of over-promoting your business).
As you must know, you never have a second chance to make a first impression.
Think about it, please.
All in all, a translator with a brand looks more professional than one without.
4. Go the Extra Mile
Clients will love you if you are more than a translator.
Humans always demand more; being able to meet such expectations set some people apart. Don't just trade your time or knowledge for money. Instead, endeavour to be a key professional or – better still – a partner clients can rely on.
Instead of providing services, help clients find solutions and they will love you for that:
advise them on how to improve their processes or your collaboration (what file format is more manageable, how to keep their documentation consistent with their whole corporate vision, etc.)
Show them you care about their business (for instance, highlight unclear source contents found, discuss potential solutions and how it would impact the translation, provide some target country facts they could leverage, etc.).
Promise less and do more (deliver before the set deadline, provide a PDF version of the target file for quick viewing, share QA insights/reports about the project).
Behaving as such makes you different and more likeable loveable.
5. Be friendly
Translation is a serious business, but this is no reason to behave like a (ro)bot. Nowadays, people are more and more distinguishing between "human translators" and automated ones.
So, let your "humanity" appear in the way you interact with your clients.
For instance, send them electronic greeting cards on special events (Christmas Day, Easter period, Ramadan Day, etc.).
Remember to thank them for "doing business with you" as often as possible. For instance, do it whenever you complete a project and at the end of each year. Bonus tip: include a "Thank you for doing business with us" line at the bottom of your invoices.
The point is making your clients know there is a real person on the other side. A person who cares and cherish the professional relationship. Try this and you'll rank up on the "client lovability index".
6. Be Humble
No human is perfect.
Always be prompt to acknowledge when you are faulty and take the blame on you. You cannot be a good translator/editor/proofreader all the time. One day or another, you'll perform poorly.
When clients point it out, refrain from shouting at them or throwing your qualifications at their face. Instead:
Keep calm (or try your best to) and listen to what makes them angry with you.
Promise to look further into the issue(s).
Objectively reassess your performance. Feel free to ask for a second opinion from a colleague.
Get back to your client and react accordingly: if they were right, apologise and take corrective measures. If they were wrong, be a diplomat. Use reference sources to back your points and show the way forward. Your goal should be to keep your collaboration.
Below is a real-life example where I had to apologise for not being up to the task. Luckily, things went well and I'm still working with that client. 🙂
7. Be Yourself
You will never be someone else, so there is no need to try.
Be yourself and let people like you for the best you have to offer. It is better to be hated for whom you are than be loved for who you're not.
How does this relate to the relationship with your translation clients?
Hold on a minute, you'll understand.
On a piece of paper, draw up a two-column table.
List your (personal and professional) qualities in the first column, then your faults in the second. Take enough time and be serious throughout this exercise.
Request some help from your friends, relatives and colleagues. You may use a simple script like this:
After receiving feedback from your colleagues or relatives, complete the table and analyse result patterns. Build on your qualities to improve your relationship with translation clients. Remember, improvement is a journey, not a destination.
From time to time:
ask if there is anything you can do to make the collaboration smoother
request your clients to point out what they like/dislike about you assess
how better you are now from who you were 5/10 years ago.
For a few minutes now, we have been reviewing some ways to make your clients love you.
There must be other ways to please your translation clients that I don't know. I would be grateful if you shared your thoughts. After all, translators edify one another, don't they?